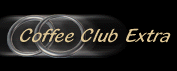 Advertise With Coffee Club
Would you like to have a banner add on the Coffee Club Online site?

It's easy, just send an email to tom@coffeeclubonline.com to get all the details.


Do you also need:

A banner?
A web page for your information?
Your site added to search engines?



Through our partnership with Infinty Monkey Web Design, we can offer you all of the above services. Plus, a fabulous reading experience every two weeks.

Join us, and spread the coffee word.